Have You Set Up Google My Business?
There are so many small things that you can do to help your business that not only are super simple to implement, they also cost nothing. One of these things is setting up Google My Business.
Essentially you are 'registering' your business with Google. Let's take a look at why exactly you should be doing this…
Make it easy for your customers to find you online - by going through this process, it means when people search for your business name, it will make it considerably easier for them to find you

First step in SEO - if you are unfamiliar, SEO stands for Search Engine Optimisation. I wish all business owners could whack a website up and boom, it pops up on the first page of Google. Not going to happen, it takes work - and this will help

Showing your customers your right information - take any miscommunication and confusion away. Google My Business gives you the platform to best communicate essential information such as opening hours, email address, contact numbers, physical address. This is a platform that is controlled by YOU, so ensure your Google My Business profile is always updated and correct

Everything is only a click away - If your essential details are populated correctly, your customer can get direction or make a call with simply one click, which is important especially for mobile users on the go. Anything that you can do to make it easy for someone to interact, communicate or find you should be a top priority

Easily manage and promote reviews - Google Reviews can be a really powerful tool for your business and you should encourage customers to post here, should they be satisfied with your product/service. Of course, not all reviews will positive, however this also gives your the opportunity to receive, manage and respond to any negative feedback that you may receive Please note, bad reviews can happen, sometimes they are not warranted and unfair. While this is disheartening, just remember it is an opportunity to respond professionally and with class, don't fight fire with fire

Updated functionality to drive sales/bookings - Get your customers to book in directly from Google! There are some great functions to help with customer conversion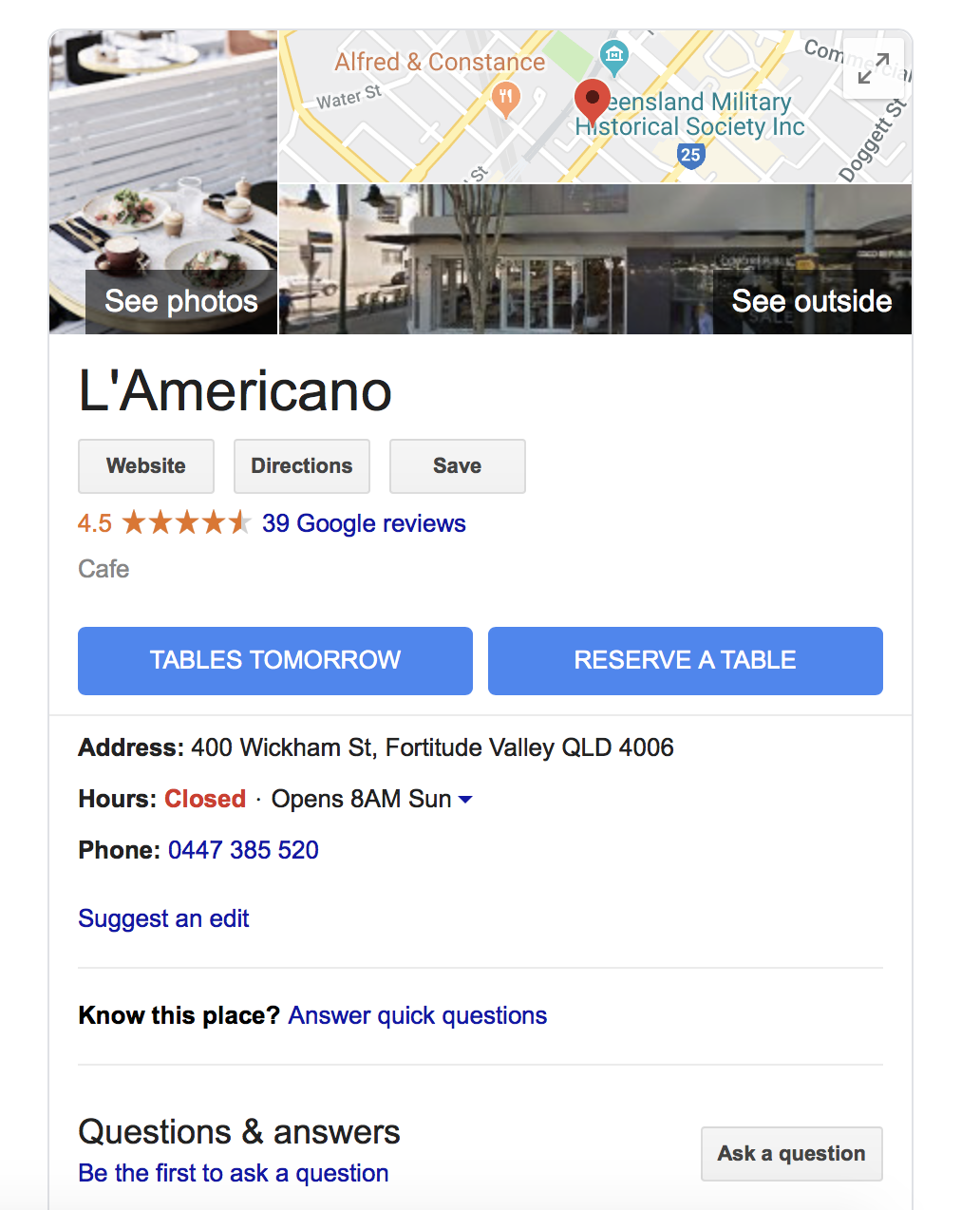 Get your cusotmers booking in!
Googlers can easily view availability, book a table, call or get directions to this restaurant in Brisbane
The #KeenApproved top tips for making the most out of your Google My Business page:
Regularly update - Don't just set and forget. Keep your images updated, any products you add, any change of business information, special opening hours for public holidays, high/low seasons or store closures

Engagement - Reply to all reviews. The good, bad and the ugly

Encourage reviews - Unless someone has had particularly good or bad experiences. Chances are they won't head over to pop a review up. Politely asking customers to review you is okay, but please do not badger people. Reviews should be organic and their opinion, not forced
Get onto it! Everyone from product based, service based, e-commerce, bricks and mortar. ALL businesses should have a Google presence. Leave a comment below with any questions.